About Gradina

Gradina is a Balkan music ensemble based in California's North Bay area. We sing a cappella and also some songs with instrumental accompaniment. We lean toward traditional songs and arrangements. We present "sit-down" concerts for choral listening as well as dance concerts, and we are also available to teach most of the dances we present.
We are honored to play with many Balkan musicians from near and far, and every concert is different, often with a different array of performers. We started around 2001. Our sister group, The Melissae Ensemble, includes many Gradina members. We also often perform with Druzhina, a Balkan instrumental ensemble.
Contact us if you are interested in singing, helping, or presenting music. Also, find us on Facebook!
Following are some links for our music. New in spring 2018: Gradina and Druzhina performing Domakine at the Arlene Francis Center, Santa Rosa, California, March 3, 2018. We learned this version from Michelle Simon at the San Francisco Kolo Festival.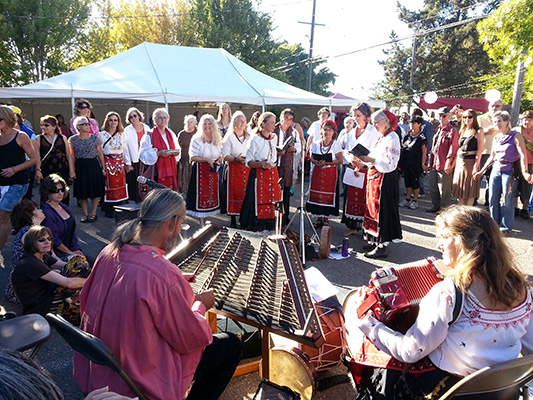 Here are Gradina and friends at the Santa Rosa Glendi, September 2012. See some as-yet unedited footage of this great dance party on YouTube.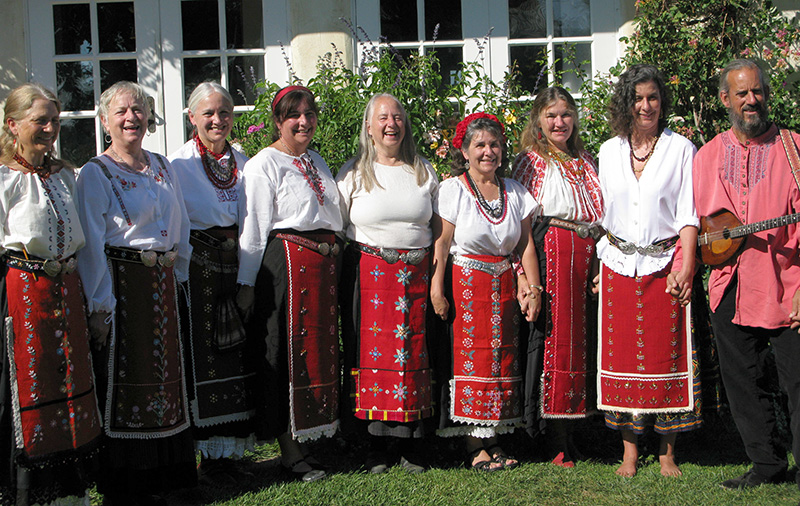 Members of Gradina at Russian River Rose Company 9/30/2012, singing and modeling antique aprons we purchased during our trip to Bulgaria, summer 2012.
Here is a link to YouTube with us singing Sidjala dona Rado ljo at Russian River Rose Company.
Two YouTube links: Gradina performed the Ladino song and dance Bibilicos, and the Rhodopi, Bulgarian Glava li ta boli, sine moj at the Feast for the Senses, at the Arlene Francis Center for Spriit, Art, and Politics, Santa Rosa, on April 5, 2014.
And in March 2014, Gradina at Razzmatazz's famous Red and Black Ball at Monroe Hall, Santa Rosa.