The Old World Carolers—Upcoming

FLASH! Special update: Our concert this year benefits CAMP FIRE RELIEF!
Sunday, Dec. 16, 3 p.m. at Sebastopol United Methodist Church Doors open 2:30. We'll have many of your requested favorites, such as Fum, fum, fum (Catalan), All Through the Night (Welsh), and Nu ar det Jul igen (Swedish), plus new pieces in our repertoire. Our theme this year is FUN and GAMES—songs that are especially fun to sing with kids and the young at heart.
Bring your camera or (camera phone) for a rare photo-op to
balance Father William's eel on the end of your nose.

Plenty of fun and follies, and songs to sing along.
This is the 200th anniversary of Silent Night, so we have to sing it. Come sing along! We'll have CDs for sale (three of this year's concert songs are on our CD).
Sebastopol United Methodist Church, 500 North Main Street, Sebastopol. Donation $10 (or more) at door, all proceeds to fire relief, tax deductible; kids free.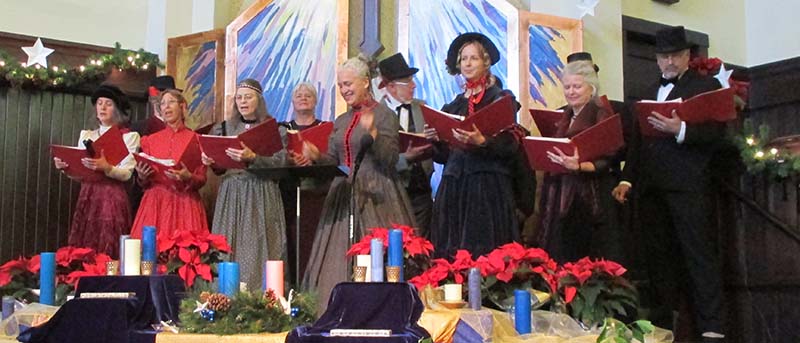 Click here to see a photo of us at the Dickens Fair, Sunday, December 18, 2011.
Link to a page for our Silver Jubilee Ball, Dec. 4, 2010